Advanced Features
Invoking tests
With Screenster, you can call a previously recorded test inside the one you are currently editing. To do this, click to add a new step in the "Test commands" menu and select "Invoke with parameters" in the "Type" dropdown: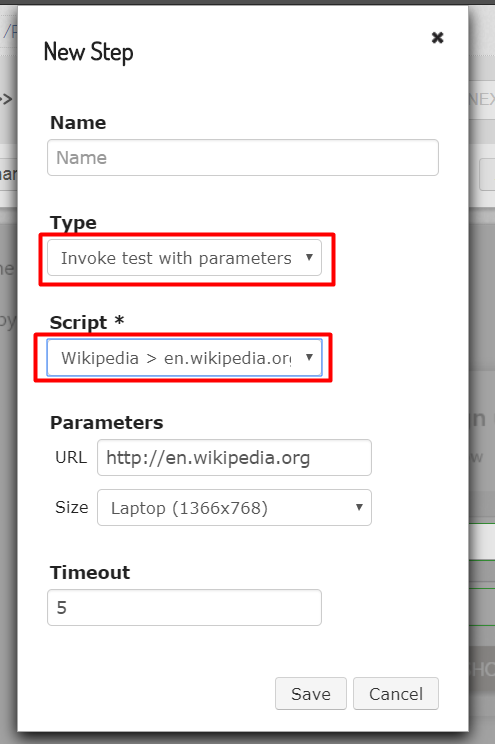 Important: remember that invoking a test will change the flow of your current test. If the invoked test breaks the overall flow of your existing test, Screenster might have trouble running some of its steps.
Extending tests
In some cases, you might want to clone a test and reuse it with new input parameters. That's exactly what the extend feature is about!
To clone a test, go to the test history page and click "Extend Test" in the main menu.



You will see popup prompting you to input the parameters of the new test including the URL, text input and options selection.


Click Save to create a new test that has the same steps as the original and the parameters you've specified. If necessary, you can modify these parameters. To do this, open the new test in the Edit mode and edit the first step. The parameters will be available on the popup that opens.

Timeouts
When editing a step, you can see the "Timeout" field in the Edit step popup.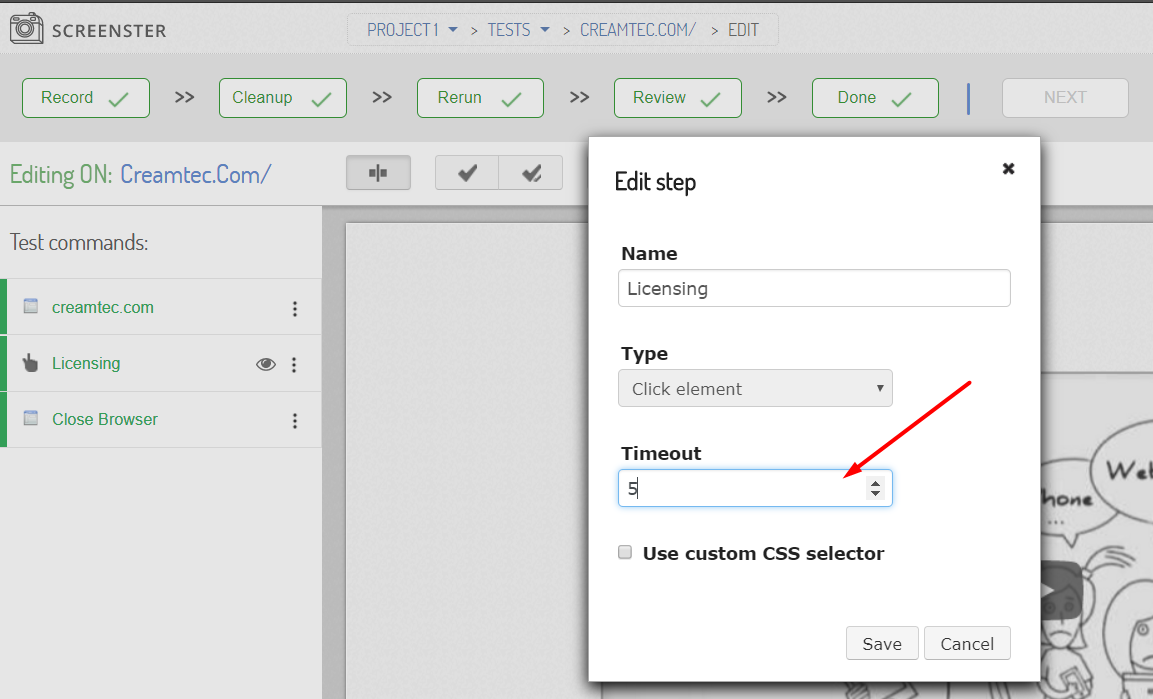 Use the Timeout field to specify the amount of seconds Screenster will wait before proceeding to another test step. Timeouts are helpful if the page you are testing has delayed events or if it takes some time to load content or UI elements. By default, Screenster will wait for 5 seconds before moving on to a new test step.
You can notice that after you've recorded the test, some steps have bigger timeouts (e.g. 50s). These larger timeouts correspond to how long it took to finish this step and proceed to the next one. So if for some reason you waited for a minute at some moment during recording, better review this step. Once you've reviewed the step, you can always set its timeout to a more reasonable value.
Creating visual tests manually
Recording tests is the easiest and fastest way to automate visual testing. This said, creating tests manually might seem like a better option in some rare cases. Cases like these mostly come down to testing a UI in the early stages of development.

Here's how you can do it. Go to the project menu and click 'Create test manually'. This will trigger a popup window asking for test name and base URL. Specify both parameters, click 'Create', and the starter version of your test is ready.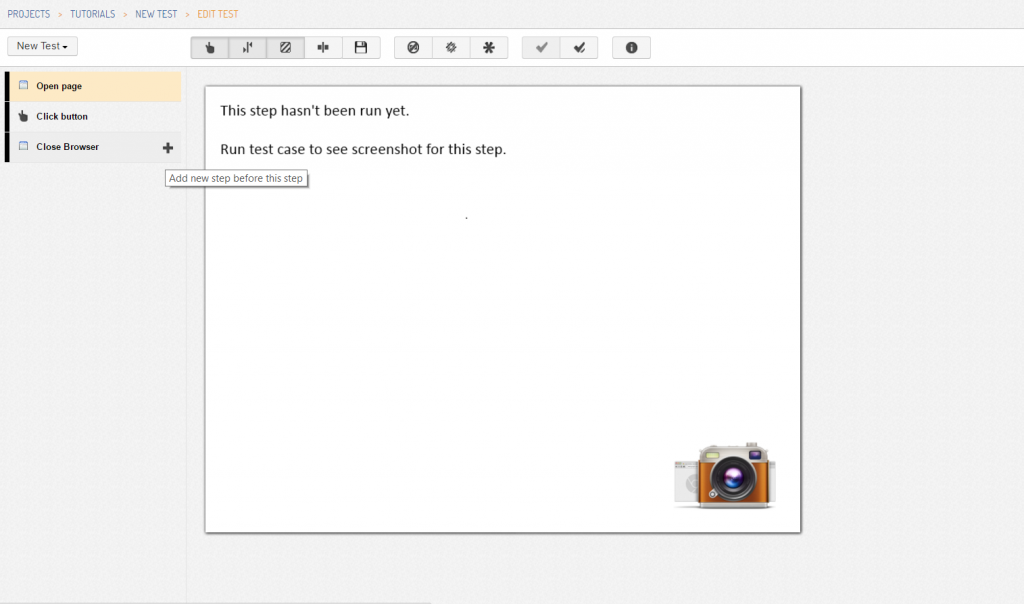 In the manual mode, Screenster automatically creates two test steps: Open URL and Close browser. You can expand your test by adding new steps. To add a new step, click the '+' icon.

Due to the fact that you're not recording anything, Screenster will only capture the UI baseline after you've created and run your test. For this reason, the screenshot panel will remain empty throughout the process of manual test creation.
Importing and exporting tests
You can export projects and tests as .zip files. Click on the 'Export Project' button on the project details page to download an archive with all tests and project settings. You can also download a separate test by clicking on the 'Export test' button.

Projects and tests can be imported from these archives to another Screenster instance. Besides, exporting offers a convenient way of keeping backups for the most important stuff. Since tests are exported in JSON, they can be version-controlled by Git, Subversion, or any other source-control system.


Importing baselines
You can export tests together with their baselines. After import, these tests will contain screenshots, and you will be able to review and edit them.
You might have noticed that you can export tests with baselines from our Demo — this is because we have enabled this feature there. To enable this functionality in your account, go to Admin → Settings → script.baseline.export . By default, the value of script.baseline.export false. Double-click on it and change it to true.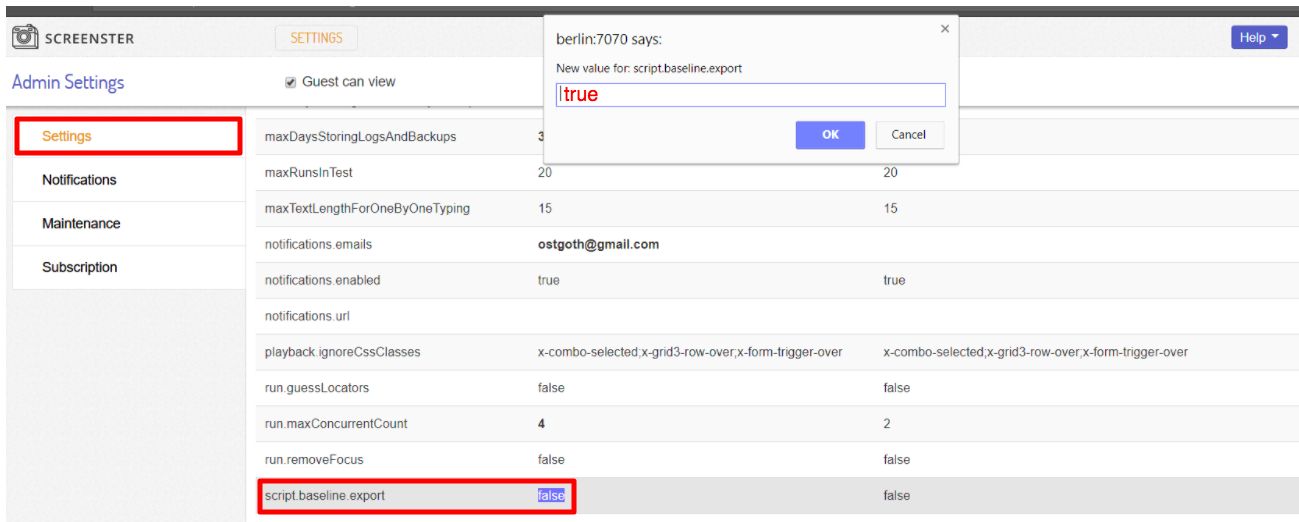 Hand-coded tests
Screenster is a low-code solutions that enables you to automate UI tests without hand-coding. This said, you can use your hand-coded test in Screenster. To do this, open a test in the Edit mode and click to add a new step.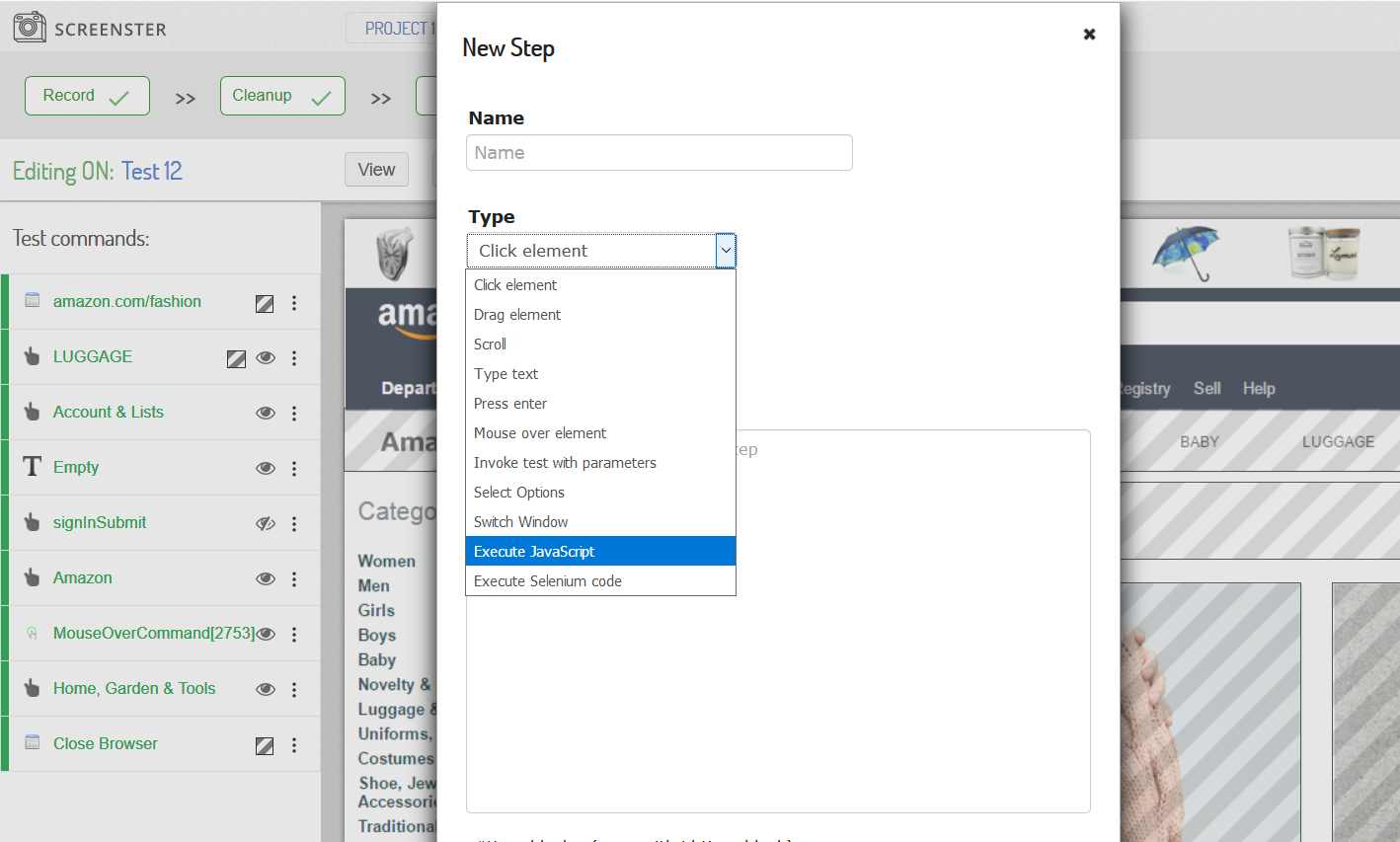 Select "Execute JavaScript" to run JavaScript code as a test step


If you like writing Selenium tests, you can execute them with Screenster as well. When adding a new step, select another option from the bottom of the list – "Execute Selenium code". You can insert a ready Selenium test here.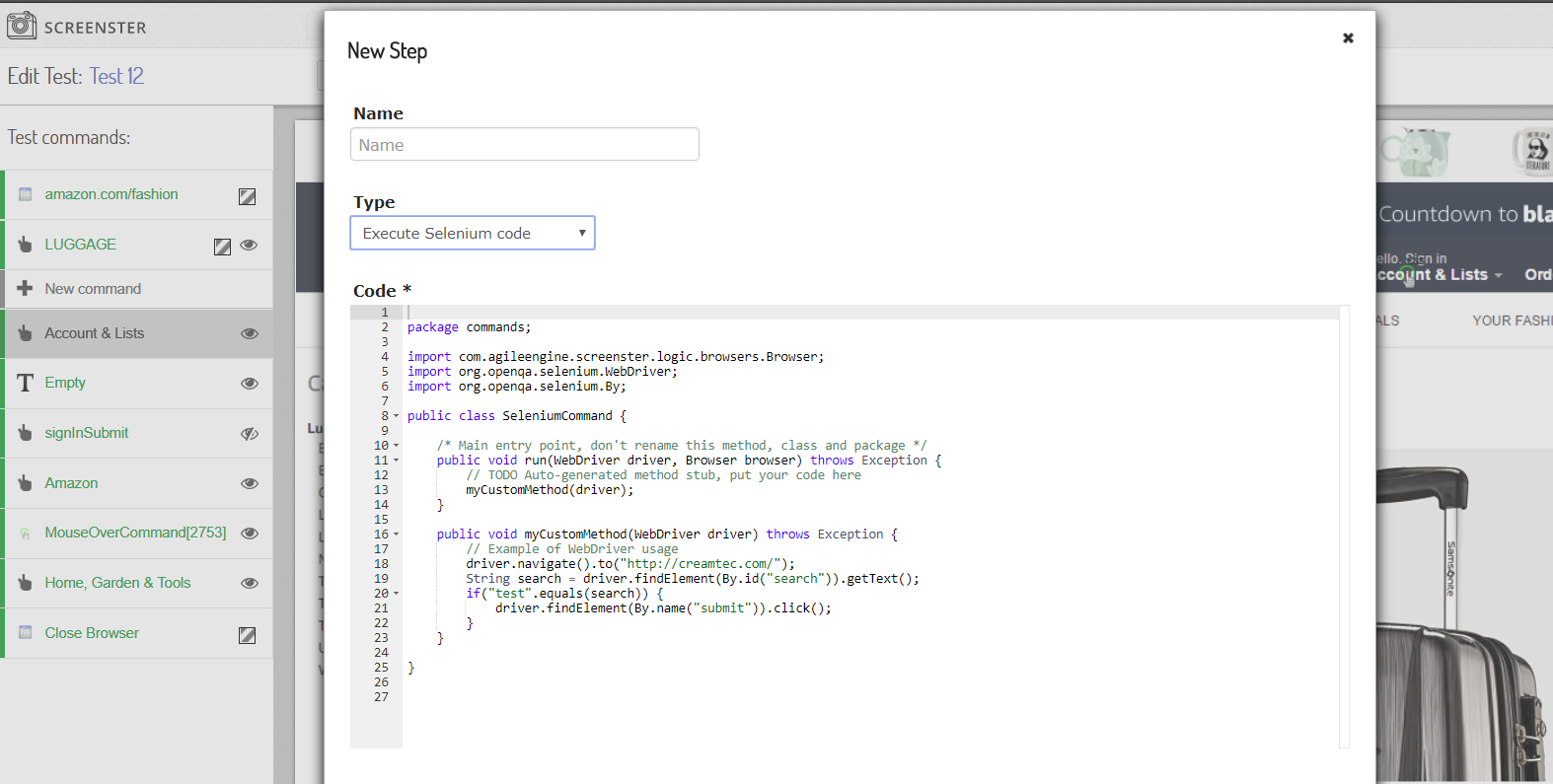 Please visit the Release History page to check what is new and what has been improved in your current Screenster version.